The CISO's Report
The report is based on a survey of more than 400 CISOs working across a broad set of companies and industry sectors in the US, Canada and other select nations.
The CISO's ReportQuickly evolving technologies, compounded by the effects of remote work, create new layers of risk.

Recent shifts in the IT landscape have resulted from the dramatic escalation of remote work, cloud adoption, BYOD and changing development practices.
The security impacts of those changes are reflected in where CISOs see the most need to strengthen their defenses.
Click here to read the full report
See what CISOs around the world are saying about the current threat landscape.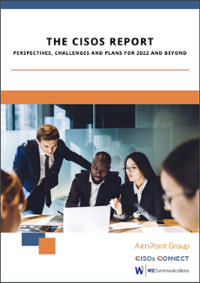 A wide range of risks, led by supply chain vulnerabilities, cause CISOs worry. Partners and suppliers are essential to the successful operation of businesses and organizations of all types and sizes, worldwide. However, respondents report third parties as the top security risk to overcome. Trailing not far behind: unpatched software/systems, gaps in cloud security coverage, and configuration errors by IT administrators. Given conversations with the board of experts, IoT/IIoT is expected to move up this list in the near future.